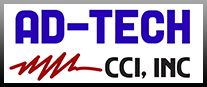 Support Tools

Need help finding the correct ABB product?
Use the following ABB product selectors to determine part numbers:

ABB Drive Selector
Disconnect Switch Selector
ABB Moulded Case Selector


Mobile Apps
»LV Product Selector for desktop and mobile
»LV Wizard for mobile


Check out helpful videos here
Featured Products
AC Drives - AC drives are used to control the speed and torque of a standard induction motor. ABB is a market leader in both motors and drives worldwide. AC drive technology provides complete control of motor speed, increasing the productivity and efficiency of the driven process. When low capacity is required, the drive reduces the machine speed and saves energy.

Literature:
Drives Guide
ACS55: Catalog | Manual ACS150: Catalog | Manual
ACS380: Catalog | Manual ACS355: Catalog | Manual
ACS580: Catalog | Manual ACS880: Catalog | Manual


Drives Application Examples

Energy saving and programming software for drives from ABB

More Drives at ABB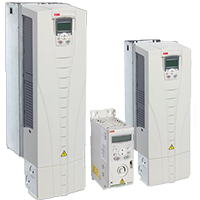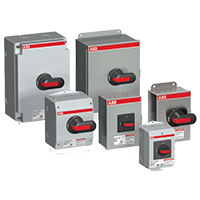 Disconnects - ABB differentiates itself in the disconnect switch market by offering UL98, UL508 and IEC rated switches. ABB UL98 listed disconnect range includes 30 to 2000 A non-fusible and 20 to 1200 A fusible switches. These may be used in a variety of applications - on service equipment, motor control centers, or as motor branch circuits.

Literature:
Catalog | Product Selector | OTDC 1000v DC Disconnect

More Disconnects at ABB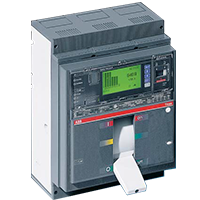 Molded Case Circuit Breakers - In the product range of molded case circuit breakers adhering to UL 489 and CSA C22.2 standards, ABB has a comprehensive offering that covers current ratings between 15 A and 2500 A and interrupting ratings at 480 V AC, which can reach 150 kA..

Literature:
XT Catalog | Technical Sheet | Selection Guide


More Circuit Breakers at ABB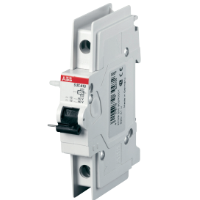 Miniature Circuit Breaker - The S200 Series of miniature circuit breakers offer a compact solution for circuit protection requirements. The S200 devices are current limiting, DIN mounted and can offer a good equivalent to fused systems. The S200 is available with application-specific trip characteristics to provide maximum circuit protection. The Breakers offer thermal magnetic trip protection according to B, C, D, K, and Z characteristics. For the worldwide market, the breakers carry UL, CSA, IEC, CE and many of their agency approvals and certifications.

Literature:
New Catalog

More Miniature Circuit Breakers at ABB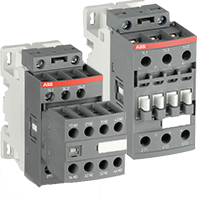 Contactors and Overloads - ABB 3-pole contactors offer an extensive selection of products for simple and extreme applications as well as products with specific purposes. Thermal overload relays are economic electromechanical protection devices for the main circuit. They offer reliable protection for motors in the event of overload or phase failure. The thermal overload relay can make up a compact starting solution together with contactors.

Literature:
Catalog | Selection Guide

More Motor Control at ABB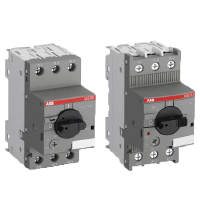 Manual Motor Starter - ABB manual motor starters are electromechanical protection devices for the main circuit. They are used mainly to switch motors manually ON/OFF and to provide fuseless protection against short-circuit, overload and phase failures. Fuseless protection saves costs, space and ensures a quick reaction under short-circuit condition by switching off the motor within milliseconds. Starter combinations are setup together with contactors.

Literature:
Catalog | Application Guide

More Motor Starters at ABB

Need a quote or to place an
order please email us or
call 800-221-1014
Catalogs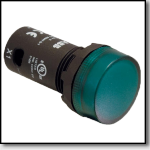 Pilot Devices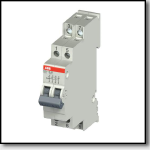 E210 Series Switches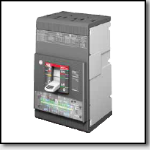 Tmax XT Circuit Breaker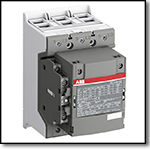 AF Contactors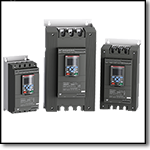 PSTX Softstarters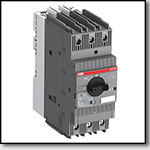 MS 165
Videos
View more videos on our Youtube channel
ABB Variable Frequency Drives
and how they work for you
An in depth look at the
key features of ABB AC Drives
How to choose between
a soft starter or a drive