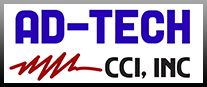 Support Tools

View Finder's full catalog here

Check out helpful videos here
Featured Products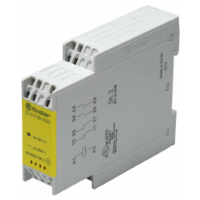 NEW: 7S Series Forcibly Guided Contacts - A unique relay module from Finder that features up to 6 safety rated, force guided contacts in only 22.5 mm of space. These relay modules are SIL 2 rated IEC 61508, and use push-in terminations for easy wiring. The 7S series has 6 Amp contact ratings and multiple coil voltages from 24 AC/DC to 230 AC.

Literature:
Series 7S Catalog | Series 7S Report
More 7S Series Forcibly Guided Contacts at Finder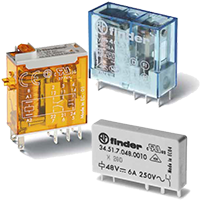 Industrial Relays - Finder offers a broad range of industrial control relays Series 55 & 56 feature AC/DC coils, lockable test button, mechanical flag and LED indicators, power range up to 12 amps.  Power relays up to 30 amps, solar relays up to 50 amps.

Literature:
Catalog | Quick Selection Guide

More Industrial Relays at Finder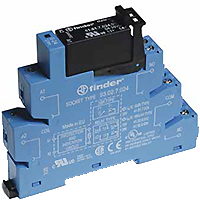 Relay Interface Modules - Series 38 & 39 are high density 6.2 mm wide relay systems, with integral jumper bars which save wiring time by providing common power bus for coil voltage. Built in surge suppression and optional fuse protection modules on the output of the relays protects from short circuit or overload conditions.

Literature:
Catalog
More Relay Interface Modules at Finder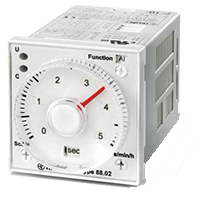 Timers -  39 series slim timer module features time ranges of .1s to 6h and 8 control functions.  Series 80 multi-function and multi-voltage timer modules provide seven functions and time ranges from .1s to 24h.

Literature:
Catalog
More Timers at Finder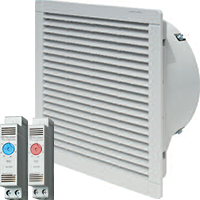 Fans and Thermostats -Finder also offers series 7F filter fans and 7T panel thermostats in heating and cooling styles.

Literature:
7F Fans | 7T Thermostats
More Fans and Thermostats at Finder

Need a quote or to place an
order please email us or
call 800-221-1014

Videos
View more videos on our Youtube channel
Overview of the
Master Interface Series 39

How to program Finder timer switches with the Finder App

Applications for the
Series 22 Modular Contactors