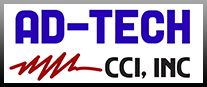 Wiring Duct & Accessories
Using a broad range of materials and products designed for durability and ease of installation and maintenance.
IBOCO has developed a wiring duct system that organizes, retains, separates, identifies, and handles even the toughest panel wiring challenges.
IBOCO also has unique accessory items for voltage separation within one duct channel, wire retainers that hold wires in place during installation and eliminate bulging of sidewalls as well as markers for labeling of duct sections.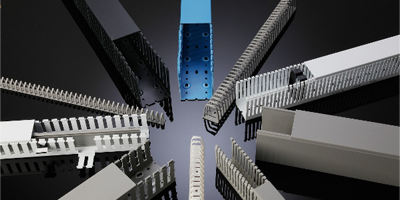 NAB Hager Wiring Duct
IBOCO's New Hager brand North American Base (NAB) standard finger PVC wiring duct is 2-meters in length, and includes the lid with a protective film that is easily removable after lid installation.
The lid is a flush cover that snaps securely over the fingers, ensuring a tight fit with minimal effort.

The individual fingers with 2 predetermined break lines insure a finger breakout on the upper score line, and easy sidewall removal with hand tool on the lower scoreline.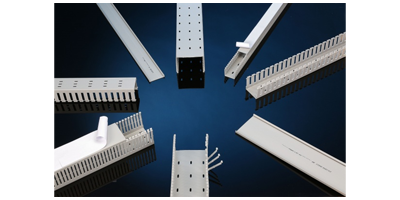 Dinosaur Adhesive Duct
IBOCO adhesive duct is well suited for wiring of cabinet doors or the sides of cabinets and can replace the use of cable ties, having no cover it is well suited for tight space locations in the control panel.

VTR Fiberglass Enclosures
IBOCO offers a comprehensive range of Nema 4X fiberglass enclosures that provide effective, efficient installations.
This family of modular enclosures is designed to provide the installer an "ease of use" not found with any enclosure currently in the marketplace.
The 14 sizes available (seven solid door and seven window), offer a modular adjustable frame that enables the installer to adjust din rail mounting components, modular panels and inner doors to desired heights, by using a quick quarter turn lock-in method, plug and play.