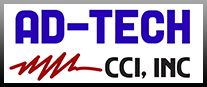 DIMENSION Power Supplies
The DIMENSION family unites all the technological achievements in DIN rail power supplies PULS has made in the past 35 years - the highest efficiency at 95.6%, longest service life and the smallest dimensions in the market.
The DIMENSION family includes the widest range of 12 to 48V DIN rail power supplies classified in three series: C, Q, and X with 1-, 2- or 3-phase input and a power of 80 to 960W.
C-Series are a compact design series focusing only on the essential features for advantages in size and price.
Q-Series are a premium class power supply with state-of-the-art features, PULS's Best-in-Class series
X Series, for motors and heavy loads, are efficient and cost saving 960W 3-phase power supplies with semi-regulation.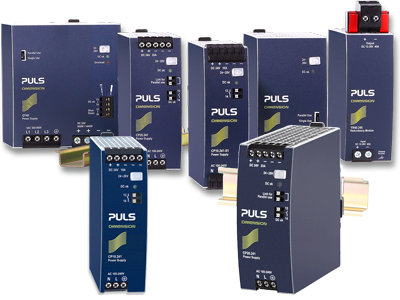 DC-UPS Controllers
Designed to bridge power failures or voltage fluctuations, the PULS uninterruptible power supplies (DC-UPS) and Buffer units are additions to standard 24V power supplies.
Expensive downtimes, long restart cycles and loss of data can be avoided, especially in mission critical applications where a power disturbance or outage is not tolerable.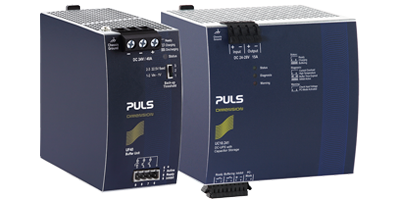 DC/DC Converters
Efficient and reliable PULS DC/DC converters provide regulated DC voltages of 12V, 24V or 48V and can be a solution for multiple applications from galvanic isolation to avoiding ground loops.

With efficiency up to 90.3% and negligibly low input inrush current, these ATEX approved 20% power reserve converters can be used continuously up to +45°C - Full output power between -25 and +60°C.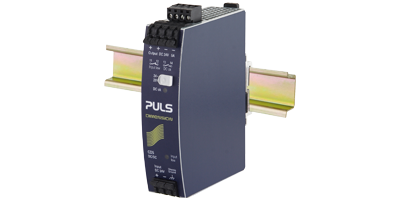 PISA Power Protection Module
Din rail mounting protection modules designed for current distribution and protection of 24V load circuits.
Distribution the current of a large power source to four lower current output channels and allowing for smaller wires to be used.
PISA modules permit only as much current on the outputs that the input voltage of this unit (which corresponds to the output voltage of the power supply) does not drop below 21V. This ensures a safe and an uninterrupted supply voltage for sensitive equipment, such as PLCs, controls or sensors, when they are connected directly to the same power supply as the PISA module.

More on PISA Modules at PULS »