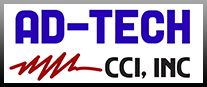 Support Tools

View Rittal's full digital Catalog here

Download Rittal's desktop and mobile app
RiTherm to calculate climate control requirements for enclosures

Check out helpful videos here
Featured Products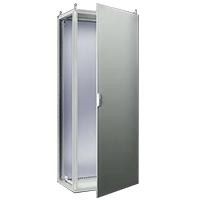 TS 8 Freestanding Enclosures - Modular design allows for efficient system updates, flexible baying options and endless configurations, all based on a robust 16 fold tubular frame system. TS8 frames can hold loads up to 1500 lbs. on the mounting panel. Other features included door mounting rail provisions and gasketed roof with sealed eyebolts to seal out dust and moisture.
NEW Take a look with Rittal's new TS 8 Breakdown video
New Develop a parts list and 3D model with the TS 8 Configurator

Literature:
Catalog | Application Guide

More TS 8 Enclosures at Rittal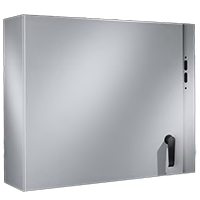 WM & AE Series Wall Mount Enclosures - Rittal has a broad offering of wall mount enclosure solutions, all featuring 3 stage paint process including electrophoretic dip-coat priming, which provides superior durability and corrosion resistance.  Door hinging is easily changed from left to right on single door enclosures with pre-drilled locations on both sides.

Literature:
Catalog

More Wall Mount Enclosures at Rittal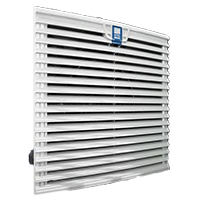 Climate Control - TopTherm Air Conditioners and Filter Fans represent the best in quality and design expertise, both cooling devices are entirely Rittal designed and manufactured.  Blue E Air conditioners can save 45% on energy consumption over other conventional cooling units.

Literature:
Catalog | Application Guide - Fans
Application Guide - Air Conditioners
More Climate Control at Rittal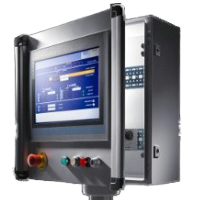 Operator Interface - Rittal has a broad range of Console Systems and Operator Housings that provide the user with an ergonomically correct interface to machine control.  The CP40 Support arm system provides maximum flexibility and holds loads up to 90 lbs., available in carbon and stainless steel.

Literature:
Catalog

More Operator Interface at Rittal

Need a quote or to place an
order please email us or
call 800-221-1014
Videos
View more videos on our Youtube channel
Inside a Rittal TS-8 modular equipment cabinet

Key Features of Rittal's new
316 Stainless Steel TS 8 Enclosure