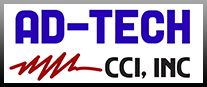 | | | |
| --- | --- | --- |
| Configuration | Climate Control Calculators | Apps |
RCIS Configuration System
A new, user-friendly tool that allows you to configure an enclosure in a 3D environment with intelligent design recommendations.
Add doors, locks, rails, heaters, cable management and other accessories to an enclosure, as well as holes and cut-outs. Configurations can be saved for later and/or exported.
Initially available for the small and compact enclosure types in sheet steel.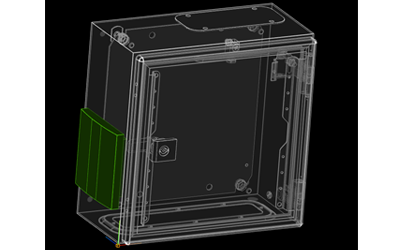 TS 8 Freestanding Enclosures
Modular design allows for efficient system updates, flexible baying options and endless configurations, all based on a robust 16 fold tubular frame system.
TS8 frames can hold loads up to 1500 lbs. on the mounting panel. Other features included door mounting rail provisions and gasketed roof with sealed eyebolts to seal out dust and moisture.
TS 8 enclosures are available in a variety of styles including, Stainless Steel, Flange Mount Disconnect, and Power Isolation.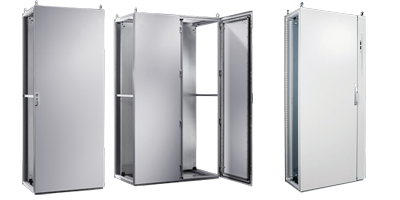 WM & AE Series Wall Mount Enclosures
Rittal has a broad offering of wall mount enclosure solutions, all featuring 3 stage paint process including electrophoretic dip-coat priming, which provides superior durability and corrosion resistance.
Door hinging is easily changed from left to right on single door enclosures with pre-drilled locations on both sides.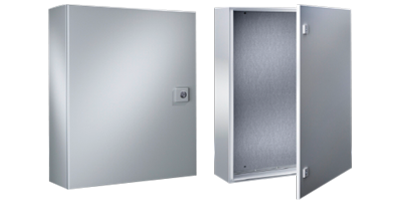 Climate Control
Rittal Climate Control meets the demand for reduced energy consumption offering greener solutions and reduced costs with a wide range of fans, heat exchangers, coolers, heaters and air conditioners.
TopTherm Air Conditioners and Filter Fans represent the best in quality and design expertise. Both cooling devices are entirely Rittal designed and manufactured.
Blue e Air conditioners can save 45% on energy consumption over other conventional cooling units.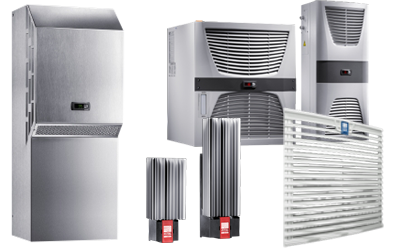 Human Machine Interface
Rittal has a broad range of Console Systems and Operator Housings that provide the user with an ergonomically correct interface to machine control. 
HMI solutions for all types of applications: Pendant arm systems, PC enclosures, industrial workstations and consoles. All designed for user efficiency.
The CP40 Support arm system provides maximum flexibility and holds loads up to 90 lbs, available in carbon and stainless steel.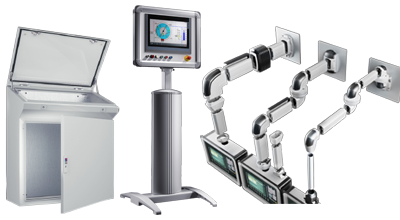 Perforex Automated Machining
Perforex machining centers are designed specifically for control panel manufacturers for fully automated, fast, precise and reliable machining (drilling, thread-tapping, milling, engraving or deburring) of mounting plates, doors, roof plates, side panels, gland plates or complete non-dismantlable enclosures.
With an average machining time of 15-20 minutes per part, investing in a Perforex machining center pays off from quantities of just 100 enclosures a year (approx).