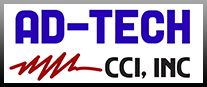 Industrial Label Printers
Brady desktop printers provide high-end performance industrial printing and labeling. These options include high-volume or low-volume sign and label making, cable and wire identification.
With a range of durable materials available for industrial desktop printers, you will be able to conform to specific application requirements or regulations that you need to meet.
Output size and color options vary depending on the model selected.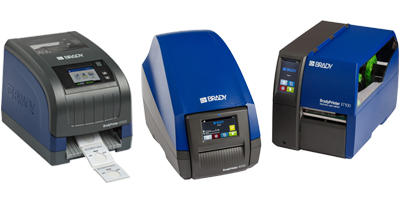 Portable Printers
Brady portable label printers allow you to create custom safety messages, component id and wire labels whenever and wherever you need them.
They are lightweight and easy-to-use so they can be taken with you in the field, on the job site, or in your toolbox.
For on-the-spot labeling in datacomm, electrical, material handling and industrial workplaces, Brady portable printers and hand-held label makers are the ideal solution.
New models are Wi-Fi and Bluetooth enabled for even faster designing and printing in the field.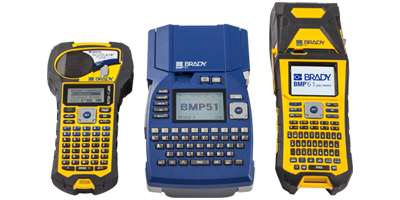 Sign and Label Printers
Brady Sign and Label multicolor printers are essential tools for implementing a visual workplace.
These Facility, Safety and Lean 5S printers are the best choice for "lean event" labeling situations and multiple user locations because they feature very approachable interfaces and very fast supply changeovers.
Select models include the ability to cut-out shapes and text.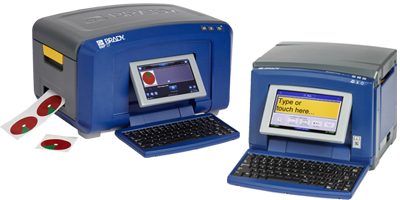 Wire and Cable Labels 
Brady offers wire labels in a variety of sizes, materials and colors to fit almost any wire, voice, data and video cabling applications as well as tools to help with faster application of labels.
Quickly identify the right voice lines during troubleshooting and mark the data lines for upcoming installs and repairs with durable material options will help you identify wires and cables even in the harshest environments.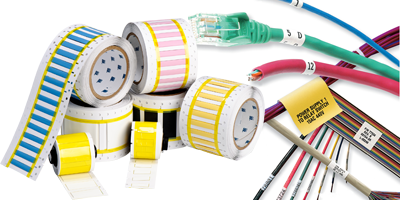 General Use Labels
Brady labels will help you place important information like instructions, warnings and identification at the point of need for equipment, cables and much more.
Material options range from cost-effective economy labels to durable long-lasting labels. Brady labels have been designed and tested to last in many different and harsh environments, giving you the confidence to use them in almost any application.
Some suggested applications include: barcodes and tracking, product ID, hazard communication, electrical, facility, equipment and laboratory.