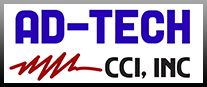 Need a quote or to place an order
MARKINGenius MG3
Thermal Transfer Printer
The MARKINGGENIUS MG3 is a high resolution plug and play flat bed tag thermal transfer printer, with ribbon saving technology making it ideal for terminal identification.
Cembre's new ribbon saving technology prints 50% more than competitors, up to 300,000 tags with a single ribbon.
The MG3 can prints 112 terminal tags in 12 seconds and tags are compatible with all major terminal blocks.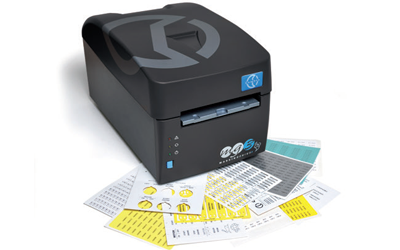 Crimping Tools
Cembre produces three market-leading families of tools for the installation of electrical connectors: Mechanical tools, Hydraulic tools and Bench Presses.
Mechanical tools from Cembre are a low cost solution for the installation of connectors with sections up to 120mm². Made with specially treated steel they require minimal maintenance and are equipped with a mechanical ratchet to control crimping.
Cembre hydraulic press heads are connected via flexible hoses to pumps with a maximum working pressure of 700 bar. Cembre pumps for use with hydraulic press heads can be operated by either foot pedal, compressed air, or electric motor powered by battery or mains. All are equipped with a maximum high pressure safety valve.
Bench Presses are operated using compressed air, generally suited to installing small-section connectors for large-scale jobs, they are characterized by their high speed cycle times.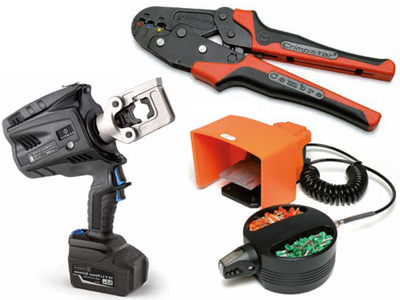 Identification, Marking & Labeling
Cembre's thermal transfer printers are backed by a wide range of markers, tags, label rolls and legends for industrial application.
Cembre has thermal transfer printers available for printing in both roll and tray style markers as well.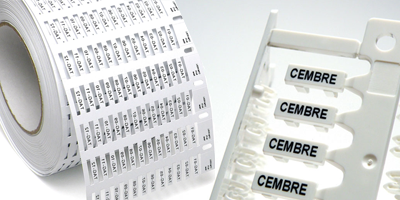 Crimp Lugs & Connectors
Cembre connectors are manufactured using only electrolytic copper of 99.95% minimum purity and aluminum for electrical with 99.95% minimum purity. Copper connectors also undergo an annealing process to optimize the structural characteristics of the metal.
End sleeves and special connectors for specific applications are available as well.